A job search book that helps you get much better results!
Let's face reality, anybody looking for work right now knows it's still pretty hard to gain employment. And that's exactly why you need Think Like an Interviewer. This truly amazing book has been praised by hiring managers, career advisers and even job seekers!
It will help you WOW and impress employers and recruiters! An absolute must when you realize what an uphill battle you're fighting. And will improve your odds of achieving success in this difficult market. Think Like an Interviewer will help you shine and overcome all the barriers you face! Especially when you realize all the things you're up against.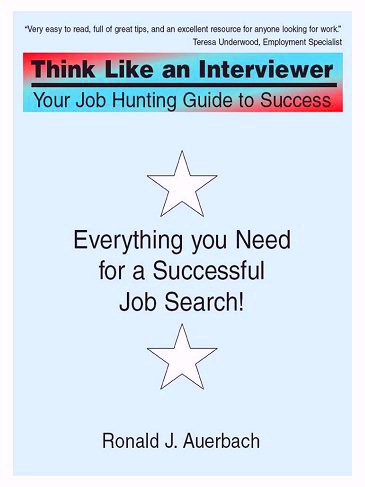 Attention Job Seekers:

Come 1/2012, federal jobless benefits may end!

Nov 2011: 120,000 jobs added

Mostly low-paying retail for holiday season

Nov 2011: Unemployment rate drops to 8.6%

On surface, good news. But really not!
Drop caused by people giving up job hunting
And that's bad news, not good!

Oct 2011: 100,000 jobs added

Mainly temp & PT jobs, not permanent

Oct 2011: Unemployment rate fell to 9.0%

Oct 2010 rate was 9.7%
Good news, people found work!

Long-term unemployment still a huge problem!
Almost 6 applicants vying for each job opening!
Today's bright spots:

Temp work, health care, biz & professional svcs

Close to 9 million jobs have been lost in this recession!
Over 1 million have quit job searching entirely!

They lost all hope and won't even look anymore!

Teen unemployment remains at a 60 year high!
So there's a great deal of uncertainty out there today. And we are all really scared and desperate for work! And I know firsthand that having a great cover letter, resume, and interviewing skills isn't enough today. You must tower far above your competition and literally convince employers you're worth hiring! But how exactly do you do this?
Well here's where Think Like an Interviewer comes in very handy. But unlike other books and resources, it's written with you in mind. It's also 100% focused on the real world and gives it to you straight! And it's extremely well-organized and easy to read. Exactly why it's been praised by hiring managers, career advisors, and even job seekers.
No BS or fillers! Just straightforward and honest advice from somebody who really wants to help you out in a time of severe crisis. A crisis he predicted! And firmly believes has always been a depression, not a recession.
You see, Mr. Auerbach understands the economy and job market extremely well. And saw the warning signs of impending doom very early on. He also has a firm grasp on how many of the seemingly positive numbers showing economic improvement are really being skewed. In other words, they don't reflect an accurate picture of what's really going on below the surface.
So Think Like an Interviewer is written with the attitude that it's bad out there! And if you want to achieve success in this kind of environment, then you have to be as close to perfect as one can get. Now fortunately for you, Mr. Auerbach will help you accomplish this!
Within the pages of his amazing book, you'll get practical advice and information you can use right from day 1. And find lots of valuable tips and techniques you won't find anyplace else but here. Think Like an Interviewer will also help you avoid the mistakes your fellow applicants will make.
Mistakes that most other resources fail to even mention! Yet are ones that will very easily cost you the job and prime opportunities. In today's harsh environment, you must avoid making any of these mistakes at all costs! Or somebody else will get the job, not you.
You'll learn exactly how interviewers think and what they really want from you. In other words, why you're being interviewed a certain way, the real purpose behind the questions being asked, and exactly how you must behave to be successful!
You'll even learn how to turn the tables on your competition by using their own mistakes to your advantage! And if you've been fired or let go, you'll learn great strategies for turning this seemingly big negative into a major positive that will truly impress the interviewer. All this will put you in charge and give you the edge you need to achieve success!
Think Like an Interviewer is available in all these formats. So take you pick of which one(s) you want!
| | | | |
| --- | --- | --- | --- |
| Paperback | E-book for any computer | E-book for the Amazon Kindle | E-book for the Nook |
So if you want to stand out like a real pro, avoid mistakes your fellow applicants will make, and walk out the big winner, then order your copy of Think Like an Interviewer today! And transform yourself from job seeker to new employee right away!
Join us on Twitter by clicking here. This way, you'll be able to get all our exciting updates, news, and our latest job search info and tips! All for free. And designed to give you practical and helpful advice that improves your chances of getting back to work and being more successful.
---
Business Opportunity available: With many job seekers starting their own businesses because they're unable to find work, we thought we'd let you know about an exciting way you can do this yourself. It's 100% legit and not a network marketing, MLM, pyramid, or ponzi scam!

To learn more about this, click here.