by Ronald J. Auerbach, M.B.A.
A job search book that gets you results!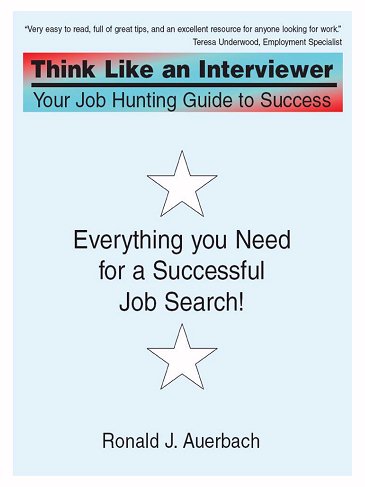 Let's face reality, anybody looking for work right now knows exactly how tough it is to gain employment. And that's exactly why you need Think Like an Interviewer: Your Job Hunting Guide to Success. Here's what job seeker's are up against right now:


A whopping 13.2 million are out of work and looking!
49 states and DC shed jobs in Feb 2009
At 8.5%, unemployment is at a 25 year high!
663,000 jobs lost in March; 651,000 in Feb; 655,000 in Jan!
December 2008 lost 681,000 jobs. The most since October 1949!
5.1 million jobs lost since the recession started
15 straight months of job losses with no end in sight
5.7 million are collecting unemployment--a 26 year high!
1 million have quit job searching entirely!
Jobs lost in nearly every profession and field
Companies having financial difficulties and cutting back
Tons of people applying for the same job
Emergency unemployment benefits expiring soon
So there's a great deal of uncertainty out there today. And we are all really scared and desperate for work! And I know firsthand that having a great cover letter, resume, and interviewing skills isn't enough today. You must tower far above your competition and literally convince employers you're worth hiring! But how exactly do you do this?
Well here's where Think Like an Interviewer: Your Job Hunting Guide to Success comes in very handy. But unlike other books and resources, Think Like an Interviewer is written with you in mind. It is 100% real world focused and gives it to you straight! And that's exactly why it's been praised by hiring managers, career advisors, and even job seekers!
Within the pages of Think Like an Interviewer, you'll get practical advice and information you can use day 1. And lots of valuable tips and techniques that you won't fine anyplace else but here. It will help you avoid many of the mistake your fellow applicants will make. Mistakes that will very easily cost you the job and prime opportunities. Mistakes that most other resources fail to even mention! And in today's recession, you want to avoid making any of these at all costs!
You'll learn exactly how interviewers think and what they really want from you. In other words: Why you're being interviewed a certain way, the real purpose behind the questions being asked, and exactly how you must behave to be successful! You'll even learn how to turn the tables on your competition by using their own mistakes to your advantage. And if you've been fired, you'll learn great strategies for turning this seemingly negative into a major positive that will truly impress the interviewer. All this will put you in charge and give you the edge you need to achieve success!
Here's an excerpt from page 27 just to give you a sneak peek of what you'll find inside:

So if you want to standout like a real pro, avoid mistakes your fellow applicants will make, and walk out the winner, then order your copy of Think Like an Interviewer today! And transform yourself from job seeker to new employee. Here's where you can obtain your copy: OLD way to list booksellers--as bulleted list CURRENT way to list booksellers--as table
---
Notes and Additional Information:
A copy of this book has generously been donated to the following:
DeVry University's student library--available for checkout by students
DeVry University's career services resource center--a helpful resource for career advisors and students
Public libraries having this book in their collection:
The King County Library System in Washington State:

4 copies were originally bought and are now available for checkout
New: Due to the book's popularity, there will soon be 15 copies available!

The Antigo Public Library in Antigo, Wisconsin
Berkshire Athenaeum, Pittsfield's Public Library in PIttsfield, MA
Barrington Area Library in Barrington, IL
New: Mineral Area College's Galahad Library in Park Hills, MO
The author, Ronald J. Auerbach, will be doing a free hands-on career workshop on:
If you're an organization, wholesaler, or retailer and would like to purchase the book for fundraising, to distribute to employees, or to sell to customers, then you may qualify for purchase discounts and volume pricing.

And the nice thing here is there's no minimum quantity to purchase! So whether you want 1 copy or 100, you still get a discount off your purchase. For more information, please contact the publisher's Channel Sales department at 1-800-288-4677 Ext. 5024